Our Focus
In our last write up we discussed MRPL Ltd & which is performing well. If we look at the nifty pharma then it has shown enough profit booking. Now it is getting to for up moves and in the year 2020-2021 pharma sector worked well. We have seen a lifetime high with the pandemic rise and cool down also. As per the chart correction is done and again sector is ready for a lifetime high.
Market Sentiment Analysis
A bull run is going on in the market. First Banknifty has made a new lifetime high and now it is nifty's turn. Pharma, Metal, & Infra stocks are leading the market. Nifty is just away from a new high and has lots of chances to hit. The market is at the top and it is a good opportunity to catch stocks that are at the bottom. The reason is market correction will not impact much on those stocks. But we have to make sure stocks root should be strong i.e. fundamentals.
We are bullish on the market and we are expecting one healthy correction after seeing a lifetime high. Let's discuss the company fundamentals and chart.
Company Business Module
Divis Laboratories is mainly engaged in the business of manufacturing generic active pharmaceuticals ingredients, custom synthesis of APIs & Intermediates along with Nutraceuticals for the Global Pharmaceutical & Nutraceutical industry. The company has its R&D centers and 6 multi-purpose manufacturing outlets. They have around 160 products.
Technical Analysis
This company's share price has made lifetime highs in the pandemic and shown levels of 5400. The stock has made Bearish Engulf at the top which was the confirmation of the trend stop. After a few weeks, the stock changed its trend and was never seen back. It took a breath after showing a fall of 50% from the top. In the month of Feb-Mar, 2023 share price has made the bottom of multiple neutral candles. While making this we have seen big player's accumulation in this stock. Then share price made Morning Star in the mid of April month and recently it has given a breakout to Cup & Handle. Now share price has changed its trend and is ready for Bull Run.
The share price is trading around 3550 and we are expecting 4500/5000 levels in the coming few months. Immediate support is around 3100.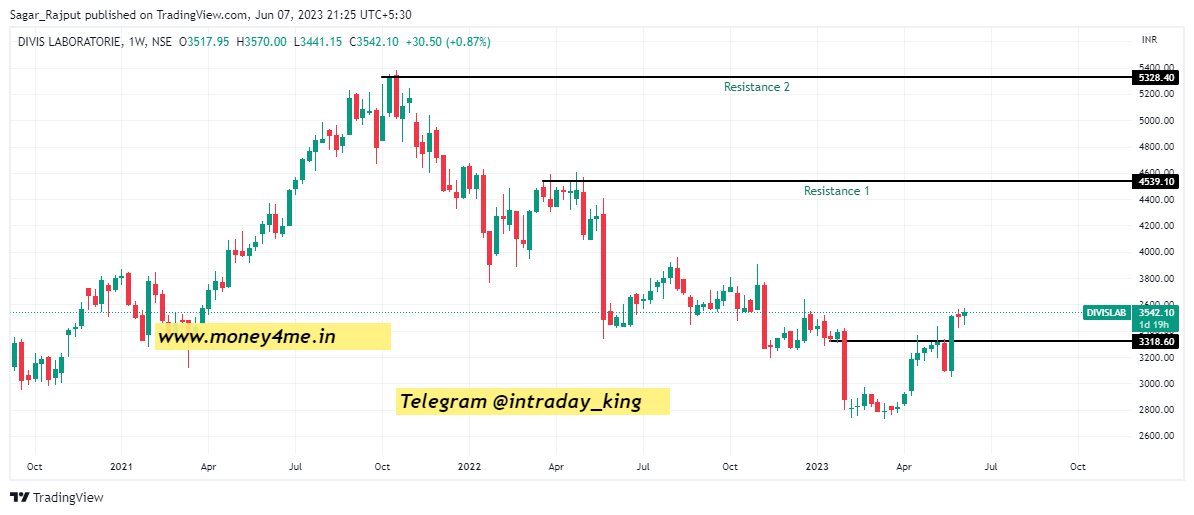 Fundamental Analysis
Pharma products are essential and demanding in the market.
The company is debt free with a big valuation.
The net profits are gradually increasing.
ROE & ROCE are more than average.
The company is expanding its business rapidly.
FIIs & DIIs have a good stake in this company.
Why Share Price Can Go Up?
The share price has made a strong base after falling 50% and it has given trend change confirmation on a weekly chart. That is the Bottom Out confirmation and volumes are increased. As we know the demand for medicines will never end. Based on these parameters we are bullish from the current levels.
Social Media Presence
YouTube - Click Here Linkedin - Click Here
Twitter - Click Here Instagram - Click Here
Facebook - Click Here Intraday Update - Click Here
Our Courses - Level-1 | Level-2 | Level-3
Disclaimer: The contents produced here are purely for educational purposes. They should not be construed as buy/sell recommendations. Readers are advised to consult their Investment advisor before making any decisions based on the above write-up.