Our Focus
In our last write up we discussed KRBL Ltd & it is working well. Now we identified one more stock that is ready for up moves and it belongs to the Oil Refineries sector.
Market Sentiment Analysis
After bouncing from 200 DMA nifty is continuously showing up moves and keeping its bull run. After the Inverted H&S breakout Nifty has faced back-to-back resistances and finally crossed all resistances. The major hurdle was 18250 however, bulls had shown power and they succeed. Now 18200 is strong support for the coming week and the next small red zone is around 18500. As per technical analysis, the market is in Higher High Higher Low sequence and that sequence can hug to lifetime high.
We are bullish on the market and we are in a bulls train. Our view is buy in dips near the bull zone. Let's discuss the company fundamentals and chart.
Company Business Module
MRPL (Mangalore Refinery & Petrochemicals Limited) is mainly engaged in the business of refining crude oil and distributing petrochemical products through retail outlets. MRPL is the joint venture of HPCL & AV Birla Group.
Technical Analysis
In the chart history, MRPL's share price has given a breakout in April 2022. That was the time of the Russia-Ukraine battle, in this battle all commodities have broken their price records. We have seen crude oil prices around 10k per BBL because of this MRPL's share price went to 125-130. Later on share price cooled with battle sentiments and again it came near the breakout zone. Now this zone is reacting like support and the share price is respecting this zone for the last 4-5 months. In Technical Analysis language, the share price has made Triple Bottom on a weekly chart and given a breakout to the sideways zone. As per our studies, big bulls have taken handover and they are ready to ride.
The share price is trading around 62 and we are expecting 80/90 levels in the coming few months. Immediate support is around 52-50.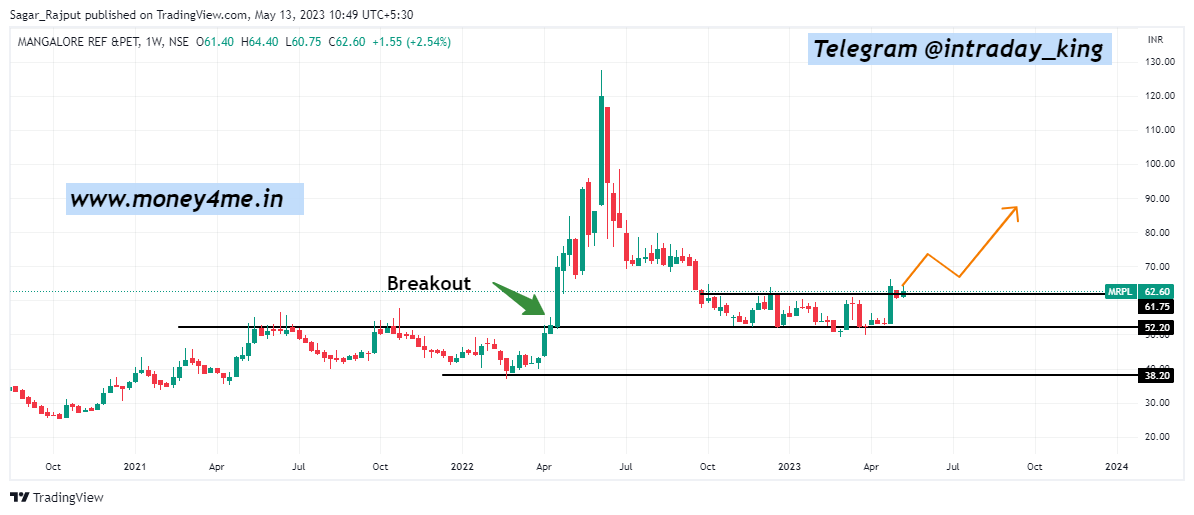 Fundamental Analysis
Products are essential and demanding in the market.
Debt is nominal and the company has reduced debt.
Yearly net profits are increasing.
ROE & ROCE are more than 20%.
The company is focusing on business expansion.
Promoters have a shareholding of around 60%.
Why Share Price Can Go Up?
The share price has made a strong base near strong support of 50 and before two weeks it has given a breakout to Triple Bottom. That is the Bottom Fishing confirmation and volumes are increased. As we know the demand for crude oil & petrochemical products. Based on these parameters we are bullish from the current levels.
Social Media Presence
YouTube - Click Here Linkedin - Click Here
Twitter - Click Here Instagram - Click Here
Facebook - Click Here Intraday Update - Click Here
Our Courses - Level-1 | Level-2 | Level-3
Disclaimer: The contents produced here are purely for educational purposes. They should not be construed as buy/sell recommendations. Readers are advised to consult their Investment advisor before making any decisions based on the above write-up.